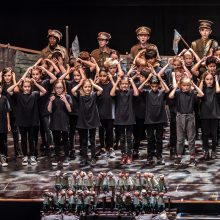 Lancashire Music Hub are working in partnership with HMDT Music to support their TIME project taking place in 6 Lancashire schools over the next 3 years. TIME – Testing Impact, Measuring Effect – aims to explore ways of empowering schools to develop and support their arts provision and ways of embedding the arts across the curriculum, to help inspire learning and attain higher levels of academic achievement.
HMDT Music has an award-winning legacy of arts projects which incorporate cross-curricular arts-embedded learning across social and/or historical issues such as prejudice and racism, using subjects such as ethnic minority soldiers in the First World War, the Holocaust as witnessed through children's writings and black baseball players in segregated America. Such projects have inspired learning and raised academic achievement – the pilot of TIME saw an increase of 47% in SATS results, several schools have cited their projects as a means by which their Ofsted rating was improved to 'Outstanding'. This current project is an important means of helping schools resist and break the barriers that limit and constrain the delivery of arts subjects, to empower them to use a creative curriculum which contradicts perceived fears that such work gets in the way of attainment, and instead, increases it.
Each school is receiving a combination of training and delivery sessions working with artists in a range of genres including music, art (including film, photography, design) and drama, building up skills of the staff across three years and leading to schools being able to plan, develop and implement arts-based cross-curricular learning.