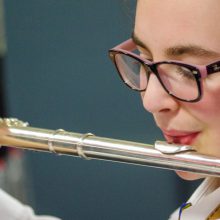 Following their fantastic performance as part of the Lancashire Sagas performance at Blackpool Winter Gardens, Lancashire Youth Folk Group are welcoming young instrumentalists and singers interested in playing folk music to join them for this term's exciting project.
Alongside exploring music from all over the UK with a focus on the communities of Lancashire, we have been commissioned to write a brand new ballad reflecting the story of the Jullundur Brigade which will be performed and recorded a part of the Remembrance Day Commemorations in November.
We welcome any instrument or voice type. To get the most out of this opportunity we recommend you have reached at least an intermediate level on your instrument/voice, but previous folk experience is not essential and nor is the ability to read notation.
The group will rehearse at Lostock Hall Academy, Todd Lane North, Losotck Hall, Preston PR5 5UR. Rehearsals will be on the following Saturdays from 10am – 3.30pm:
Saturday 14 September
Saturday 12 October
Saturday 2 November
The group will then be involved in a performance and recording session (date and venue TBC).
As this is a new project, it is FREE to take part. To book your place please visit
https://www.eventbrite.co.uk/e/lancashire-youth-folk-group-autumn-2019-tickets-71257237315
For more information email cath.sewell@lancashire.gov.uk