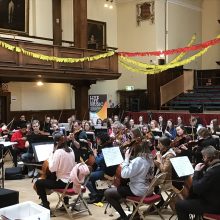 The Lancashire Youth Symphony Orchestra (LYSO) celebrated its 50th Anniversary on the weekend of 14th and 15th March with a series of musical events and activities, culminating in a Gala concert where players past and present joined musical forces!
Since 1970 the LYSO has been providing young musicians in Lancashire with wonderful experience of playing orchestral music with a full symphony orchestra.  The LYSO has provided generations of musicians with high quality training through the coaching of dedicated tutor teams working with professional conductors.  
"What a weekend we had celebrating our 50th Anniversary! It was a pleasure to welcome back Alumni from across the years and then host the gala concert. This was a unique occasion in the history of the orchestra as well as being a memorable opportunity for our current players to learn at first hand from professionals who started their journeys with the orchestra. The quality of the music making over the weekend is testimony to the training musicians in Lancashire have received over the orchestra's proud history and a great way to embark on our next 50 years." Helen Harrison, Music Director LYSO
The weekend kicked off with the Orchestra and its team hosting the Alumni Come and Play Day, alongside their current LYSO playing Dvorak's 8th Symphony on Saturday March 14th at Ashton Town Hall, Lancaster.  
The climax of the weekend celebrations will be a Gala Concert on Sunday March 15th at Ashton Town Hall, Lancaster.  Previous players performed in a side by side concert with the current members of the Orchestra.  This was a unique opportunity for the young players to experience the thrill of playing with professional players and a fantastic learning opportunity and celebrate all of our Lancashire talent past, present and future.
Lancashire Music Service runs the County Ensembles programme where  generations of young people from across Lancashire have been making music together. Building on this long history, the six ensembles they have today are vibrant, aspirational and exciting to be part of. They meet the needs of young musicians in young musicians today. Lancashire Music Services County Ensembles enable committed young musicians to take their music making to an advanced level, working alongside professional directors and tutors. The opportunity to be part of an ensemble is an important achievement and something that people remember for the rest of their lives. These young people are following the path of many musicians before them, but they are also shaping our county's musical future and inspire the next generation.