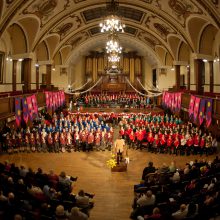 The Lancaster & District Schools' Singing Festival, started over 70 years ago,  has seen the most significant increase in the number of schools and children engaging with the Festival for 2019 with over 1400 children from 28 primary schools will taking part.   
The schools involved represent the diverse geographical and social groups within the region; from small rural schools, to large urban primaries.  There is also the participation of SEND students from a specialist school within the community.  
Over a period of five years the Singing Festival has made great improvements to the festival function including having a live band for the festival and school workshops in the lead up to the festival performance.  Each school involved is part of an exciting journey in singing and performing which culminates with a large scale show at Lancaster Town Hall where all the schools involved come together to perform their songs.
The festival features performances from local KS4 and KS5 soloists and ensembles in the intervals, including musicians from LMH County Ensembles, local secondary schools and the Lancashire Youth Vocal Ensemble, which gives the children inspirational insight in what they can go on to do in music and song. 
"To sing is a rather wonderful thing…and young people have been doing so, as part of this Festival for the last 70 years. We aim to bring together as many schools from across North Lancashire, together in song, to experience the joy of making music as part of a diverse community and breathe life into the walls of this great, historic venue. Some local families here have experienced the Festival across 3 generations – and we think this is a marvellous legacy. As you leave, there will be a voluntary collection which goes a long way to continuing our lovely Festival and your support is greatly appreciated"
Emma Williams – Singing Leader, Lancashire Music Service