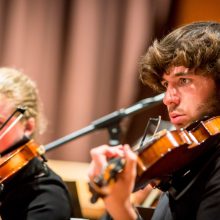 In February Lancashire Music Hub has launched a series of free instrument workshops aimed at players at all levels of ability – from beginners to advanced.
The three  full day workshops in String, Woodwind and Brass will see young players from Lancashire Music Hub Ensembles join expert tutors to provide a fun and friendly day to improve participants musicianship, inspire them to play more and end the day with an informal performance for parents / carers and friends.
Last years LMH String Day was a complete sell out and had great response from all participants…
"I got to hear some amazing violin players…Miss Harrison is a very good conductor and i'm honored to work with her" Jonny, String day participant.
The sessions are free and are a full day of playing and meeting like minded people. Booking is essential see the links below for more information and to book!