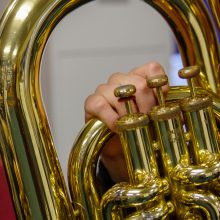 LYBB Concert Tour to Ayrshire – May 2019!
One of our leading youth brass bands LYBB (Lancashire Youth Brass Band) begin a tour of Ayrshire at the end of May. Playing at 4 venues across the region LYBB will collaborate with Brass Academy and the Salvation Army at two of the venues.
Under the Musical Directorship of Helen Minshall, LYBB play a diverse mix of music, from traditional marches, hymn tunes to popular themes including Bohemian Rhapsody, The Greatest Showman and Pirates of the Caribbean.
Helen said "This tour is a huge undertaking for the players and all involved. We are all really excited to be touring together and to play at different venues and also do a couple of joint concerts. This is a fantastic opportunity for the players to experience touring with band members and how it all comes together!"
Tour dates:
Saturday 25th May, 12pm
Culzean Castle Visitor Centre,
Maybole KA19 8LE
Joint concert with Brass Academy
Dalmellington.
Saturday 25th May 7.30pm
St Nicholas Church, 3 Bellevue Rd,
Prestwick KA9 1NW
Charity concert for Ayrshire Cancer Support
Sunday 26th May 2pm
Dumfries House, Cumnock; Ayrshire;
KA18 2NJ
Sunday 26th May 6.30pm
Ayr Salvation Army Church, 59 John Street,
Ayr KA8 0BS
Joint concert with Ayr Salvation Army Band
Find out more about LYBB by clicking HERE
The tour has been made possible with the supporters and sponsors Vamooz, Ribble Vets, Ultra Electronics, ADB Airport Systems.