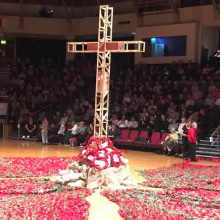 On Sunday 11th November, Lancashire Youth Brass Band took part in a large scale Armistice Show at Preston Guild Hall "The Great War Remembered". The show was produced by Simon Wallis, Headteacher of Barnacre Primary School, together with the Longridge Cluster Schools. It was a magnificent demonstration of team work with the story of World War 1 told in music, song, dance, drama, and with a cast of over 700 children taking part.
Helen Minshall, LYBB Music Director, wrote the following blog about the concert:
Lancashire Youth Brass Band (LYBB) had several players already involved in Armistice performances with bands in their own communities, and a request for volunteers brought together 16 players to accompany the show. Rehearsals took place on 3 Saturday afternoons in the Autumn term, when the players broke away from the usual LYBB rehearsal to rehearse with myself, Simon Wallis, Brenda Bentley and our volunteer trombone tutor Paul Cull.
LYBB mastered some challenging music in a very short space of time. the players learned to march, and two were enlisted to acting parts in the show, as stretcher bearers. We were also grateful to Paul Rigby, Music Director of Lancashire Youth Jazz Orchestra (LYJO) and Rick Kershaw, Head of Performing Arts at Longridge High School, for supporting the band.
Sunday 11th November was a long day for all involved, with staff arriving at 8am and players at 10am. The dress rehearsal lasted almost 3 hours, putting all the finishing touches to the show. The band practiced marching with the cast, to the tune of "It's A Long Way To Tipperary" and "The British Grenadiers". Other repertoire included "Those Magnificent Men In Their Flying Machines", "Nearer My God To Thee" and "Pack Up Your Troubles".
The band also played background music to entertain the crowd before the afternoon and evening performances, and also at the intervals. The afternoon performance was remarkable, although several scenes ran over slightly time-wise; it started at 1.30pm and finished at 5.20pm, having included a beautiful solo violin performance of Vaughan Williams "The Lark Ascending" by a student from Chetham's School of Music. The performers were tired by this time, but soon bounced back when they were treated to a McDonalds meal! The evening performance was seamless, and finished at 9.45pm.
Considering they participated for 12 hours on the day, the young players from LYBB displayed high levels pf patience, self discipline, musicianship and co-operation, and I am very proud of what they achieved. None of us will ever forget the moving story of "The Great War Remembered", and the educational value was exceptional.
A great project!
Find out how you can become a LYBB member and whats involved here.