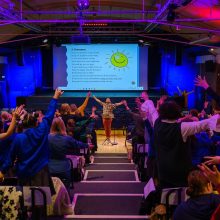 The first ever Lytham Big Sing for KS2 children is a huge success!
On the 7th of March, Lytham Big Sing launched at the historical Lowther Pavilion. 6 Schools & 243 children came together to 'breathe life into the walls of a great, local venue'.
As the first ever local Big Sing for Primary KS2 children, we are proud to say as a Hub, the day was a huge success! The event was developed and led by Emma Williams, Singing Lead for the Lancashire Music Hub, and conducted by Tim Uffindell.
Both the Mayor and Mayoress of Fylde (Cllr Ben Aitken and Bernadette Nolan JP) attended the day, presenting certificates to the 6 schools; The Mayor gave a short vote of thanks stating how marvellous the event was and how moved he was.
Here is what Teachers, Children and Parents had to say about the Lytham Big Sing: 
Teachers said:
"Well, what can I say. We had the most amazing time singing and performing today. All our children thoroughly enjoyed the whole experience. Thank you so much for putting this together, working so hard so that we can all enjoy having a great sing. Can't wait till next year! Thank you again."  
"I just wanted to say how wonderful Lytham Big Sing was. From start to finish it was such a joyful event and to see all the children having such a wonderful time was truly priceless, not to mention how much it helped our wellbeing as teachers. We can't wait for next year."
"Lytham Big Sing was a fantastic opportunity for our school to come together with other local schools and experience the joy of singing and performing with incredible musicians. Our children thoroughly enjoyed the whole day and it has created a real buzz around singing. Performing in a local venue for a real audience is something these children will remember for years to come."
The children said:
"It was amazing!"
"It was so fun to see lots of different schools come together and sing."
"Tim was cool."
"Tim and Emma were really funny."
"It brought joy into our hearts."
"We all enjoyed it, and it was lots of fun."
"I loved performing with the other schools."
"I loved how we signed as well as sang. This meant more people could understand it."
"We learnt that singing can make such an impact on our lives."
"I loved learning to sing in different languages."
Parents said:
"What a brilliant afternoon. It was well worth half a day's annual leave!"
Once again we want to thank every single person that made this event possible, and a special thankyou to our 'funny & cool' Emma Williams and Tim Uffindell for hosting a great day!