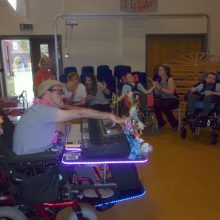 More Music brought together PMLD (Profound and Multiple Learning Difficulties) students from three SEND schools early this month to share the vocal work they've been doing in school over the year and to collaborate as an ensemble.
The pupils have been part of LYVE SEND (Lancashire Youth Vocal Ensemble), an inclusive project that helps non-verbal PMLD students to vocalize and use their voices musically. The gathering took place at Kirkham Pear Tree School and involved pupils from there plus the Loyne School in Lancaster and Ridgewood School in Burnley.
There's a gathering every term for LYVE SEND, it's a great event to work towards and the participants really enjoy it. The project is funded by Lancashire Music Hub.
Music leader Ashley Murphy leads on the LYVE SEND project.  He explains:
"Collective vocalising and instrument playing is the aim for our sessions through loop pedals and interactive songs. Myself, Sian Phillips and Bill Roberts ran the workshops we have been doing at these schools, trying to provide consistency and familiarity for the students as this tends to get the best results."
"The room was full of the sound of shakers, bells and roaring vocals. It's a great sight to see with three schools coming together at first quite a daunting task for the music leaders but its come a long way. We've been working regularly in these schools for a few years, sometimes weekly over an academic year and sometimes fortnightly for just a term. "
"The other thing to celebrate is the secret performance for the young people, a treat for all the hard work they've done. This term's performer was Steve Varden and his extraordinary one-man band.  Steve is a disabled performer who has specially converted his electric wheelchair into a vibrant mobile music machine with lights and musical equipment.  He brought the rave to Pear Tree with his synthesizer samples and beats. The shakers continued followed by some crowd interaction of 'Woop woop'.  We need to get Steve bringing the party to every school across the country!"
"Now back to the schools for interactive looping, delay pedal microphones and a bit of Bare Necessities for good measure."
Find out more about LYVE SEND and watch a video of a past gathering at www.moremusic.org.uk/LYVE-SEND.
If you are interested in having LYVE SEND sessions at your school, please contact Darren Leadsom at darren.leadsom@moremusic.org.uk.  For schools new to the project, we can offer four free sessions so you can see it in action and the costs of sessions after this can be partially subsidised.