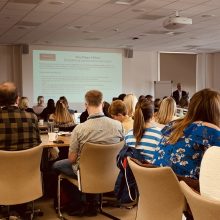 After two brilliant days of planning, coaching and building we thank Mark Phillips for the great detail and valuable insight into crafting our music curriculums. 
151 primary and secondary teachers joined us at The Exchange in Preston for two days of CPD training with Mark Phillips,  Former HMI, SHMI and Ofsted's National Lead for Music. Featuring opportunities to try out new activities and technology such as the Ableton Push 2, or pick up new materials to use in the classroom.
Participants have described the days as 'insightful' & 'incredibly useful' with more feedback coming through as the week goes on.
To find out more about what Lancashire Music Hub has to offer please head here!