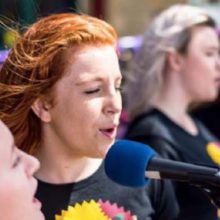 More Music: LYVE WANTS YOU! 
LYVE is a modern singing group that combines harmony vocals, rapping and beatboxing. As part of LYVE (Lancashire Youth Vocal Ensemble), you'll perform music by artists like Stormzy, Dua Lipa and Lady Gaga and create your own songs as a modern singing group.
If you want to become a better singer rapper or beatboxer and perform live on stage, this is for you. 
Wednesdays 5pm-7pm at More Music during term time. (Aimed at 12-18's)
For more information please email Darren.leadsom@moremusic.org.uk