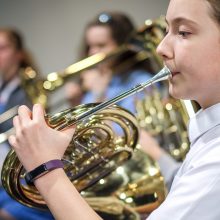 We're moving all our LMS Music Centre activities online until for the time being. Lessons will be taught via our safe and reliable online platform, musictutors.com, and we'll be bringing together young musicians and our fantastic tutors from across Lancashire for our innovative virtual ensembles.
Lessons and ensembles will start w/c 21st September.
This is the ideal opportunity to try out one of the ensembles, meet other musicians, develop your skills in a fun and relaxed environment, and get ready for when we can start to get back to some face to face rehearsals. Beginners are very welcome.
Sign up for your free taster session….
https://www.eventbrite.co.uk/e/lms-music-centre-online-taster-tickets-123518979593 
If you have enrolled for autumn term lessons you will be automatically connected with your instrumental/vocal teacher via musictutors.co.uk. If you have already signed up to ensemble membership you should have received details of how to join. As an ensemble member, you can take part in as many sessions as you like so why not try something new..
Beginner Brass                     Tuesday               6.00-6.45pm
Improvers Brass                  Thursday              6.00-6.45pm
Woodwind                             Monday               5.00-5.45pm
Strings                                    Wednesday         5.00-5.45pm
Guitar                                    Wednesday         6.00-6.45pm
Percussion                             Tuesday               4.30-5.15pm
Voice (primary)                    Monday               4.00-4.45pm
Voice (secondary)                Thursday            5.00-5.45pm
For more information please email lmsmc@lancashire.gov.uk or call 01257 517116