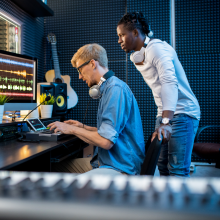 Schools – register your interest now to bring a group of pupils to our Creative Careers Event at UCLan on Monday 13th November.
Preston Local Cultural Education Partnership (LCEP) have created this opportunity to inspire Key Stage 3 pupils and raise their awareness of the huge variety of careers in the arts and creative industries. As well as information on pathways into careers, there will be a diverse panel of representatives working in both creative and supporting roles in the cultural sector who will talk about their own experiences and answer question from your pupils. The session will finish off with a hands on creative challenge working in smaller groups.
The aim is to encourage year 8 or 9 pupils to consider taking creative subjects at GCSE level, so we recommend targeting this opportunity at smaller number of specific pupils rather than bringing a whole year group.
The event is free of charge although you will have to provide your own transport to The Media Centre, UCLan.
There are two sessions: 9.30am – 11.30am and 12.30pm – 2.30pm. We have 60 places for each session. These will be allocated on a first come first served basis.
To register your interest please fill in our online form: https://forms.office.com/e/2tnVMBhmqa
Preston Creative Careers Event is supported by UCLan, Preston City Council and Lancashire Music Service.
It is part of Discover! Creative Careers Week