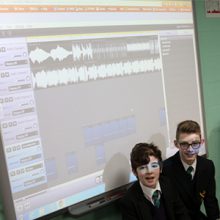 Students from All Hallows school in Lancashire have produced a 19-track Dubstep album, all made using Charanga's VIP Studio Sessions.
A group of mainly Year 9 students from the school, have made Dubstep along with other styles to a great standard, go to Charanga's website to read more and a for a link to the album.
VIP Studio Sessions is a ground-breaking way for young people to learn and create new music. It provides everything they need to create, produce and release their own music including 24/7 access to a complete online recording studio.