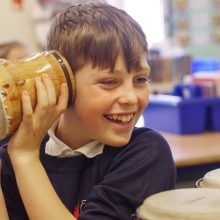 Lancashire Music Service can provide everything you need for supporting high-quality music in your school – from instrumental and vocal teaching to curriculum training, from choirs to online resources.
We work across Primary, Secondary, Specialist schools and Alternative Provision settings. We work collaboratively with you to make sure all pupils are able to access music, both as part of the statutory curriculum and also for enrichment and wellbeing.
Whether you are already buying in to our services or you are thinking about engaging with us for the first time, you can find all the details in our 2023 – 2024 Schools Brochure
To request your Service Level Agreement, just fill in the form on our online portal, SpeedAdmin – if you have a login already then click on the "School Provision Request" tab. If you don't have a login, please contact lancs.music@lancashire.gov.uk and we'll set you up.
We look forward to working with you and your pupils!