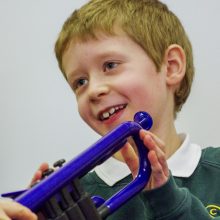 UpBeats is our interactive performance and creative workshops for primary schools, led by our inspiring professional ensemble.
The dynamic group of professional musicians will come in to school to take you and your pupils on a musical adventure! Listen to a live performance, discover the different families of instruments, and work together to create a brand new piece of music to perform together.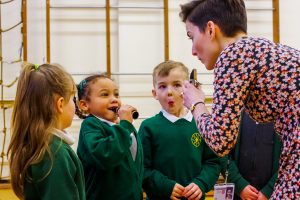 An UpBeats workshop is perfect for Arts Week, one-off assemblies, cross-curricular projects and also to encourage pupils to take up a musical instrument. The UpBeats ensemble are able to integrate with Whole Class Ensemble Teaching (WCET) and instrumental lessons in school.
We can design a bespoke workshop for your pupils or there are workshop options:
Lift Off – Journey to a galaxy far, far away and explore the sounds of space.
Animal Magic – Creature of all shapes and sizes are brought to life through music
Workshops are 2 hours and delivered on a Wednesday morning for up to 80 pupils. UpBeats is suitable for Key Stage 1 or Key Stage 2, including SEN/D groups.
"Thank you so much to you all for today, it was a wonderful experience for our pupils." – Teacher at Hillside Specialist School.
"It was fantastic for the children to hear live music and learn about the families of the orchestra. The UpBeats showed real enthusiasm and motivated all of our children to create an exciting composition." – Headteacher at Farington Primary School.