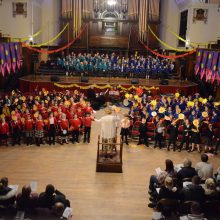 More than 1300 local school children came together to perform four concerts at The Ashton Hall, Lancaster, to celebrate the 70th Anniversary of the Lancaster and District Schools' Singing Festival.  It saw children between the age of five and eleven from 27 different primary schools from Lancaster, Morecambe and the surrounding districts, singing newly composed pieces, as well as pop songs and songs from around the world.
In addition to the wonderful singing, the Festival was able to showcase the talents of three talented young musicians:  David Whyatt on saxophone, Charlotte Burrows on Trombone and Joel McAllister on clarinet.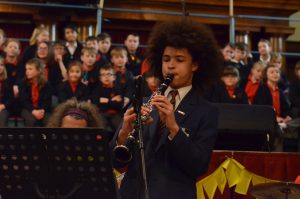 Pictured: Joel McAllister on clarinet
The event was run by the Festival organising committee, supported by More Music for the Lancashire Music Hub.  The children had all learnt their parts in school with help from their teachers and the project's leaders.  The Mayor and Mayoress attended the concert on 20th March.
"It has been wonderful again, in this 70th year of the Festival, to see  children from a wide range of schools across our district singing enthusiastically and enjoying the whole experience that this annual event offers. The setting of the Ashton Hall coupled with performing with a band of live musicians provides an experience that they will hopefully remember  for many years to come."   Paul Bowden, Headteacher at Slyne-with-Hest St Luke's CE Primary School, and member of the organising committee.
The Festival started 70 years ago.  Originally for secondary schools, the Festival switched to primary schools 27 years ago, to raise participation in singing in primary schools.
"It is an utter joy to be involved with Lancaster and District School Singing Festival; getting to work with so many different primary schools on such a brilliant variety of music is always exciting and I have no doubt that the children involved leave with memories they will never forget. It's particularly special to think that with LDSSF being in it's 70th year, some families have been coming for 3 generations. A true musical legacy!" Emma Williams, Lancashire Music Service District Singing Leader and KS2 conductor.
"The festival is such a wonderfully creative way of uniting all the children, across the borough, through the joy of song. Over the years, I've seen the confidence in performing and the appreciation of music, developed brilliantly in so many children, who have taken part in this amazing event. Here's to another 70 years!!!" Glyn Gibbons, Teacher, North Road Community Primary School, Carnforth.
The Festival project is led by Debbie Pilkington, Chair of the Organising Committee, who conducted the Key Stage 1 concerts on 19th and 22th March, with the support of Emma Williams, Singing Leader for the Lancashire Music Hub, who conducted the Key Stage 2 concerts on 20th and 21st March.
"It is great to be able to celebrate the longevity of this Festival which has helped to enhance the lives of thousands of local children over the years. In recent years, the involvement of Lancashire Music Hub and More music have enabled the Festival's development to be increasingly more current whilst still retaining its core values. The themes were chosen this year to accentuate how important music is to our well-being and we feel sure that the performers and audience alike left with a real sense of this." Debbie Pilkington, Chair of the Organising Committee and KS1 conductor.
To be involved in the 2019 Singing Festival contact Nicky Donnelly at More Music on nicky.donnelly@moremusic.org.uk or call More Music on 01524 831997.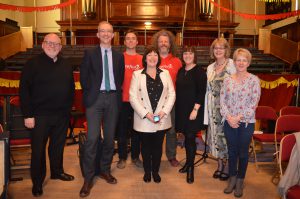 Pictured: Ian Gray (Keyboard); Paul Bowden (Headteacher Slyne-With-Hest, St Lukes CE, Primary and Festival Committee member); Ben McCabe (Drums); Nicky Donnelly (Festival Secretary); Dave Shooter (Bass); Emma Williams (KS2 Conductor and Lancashire Music Service District Singing Leader); Debbie Pilkington (KS1 Conductor and Festival Chairman who teaches at St Wilfrid's, Halton); Janet Barker (Festival Treasurer and Teacher at Cawthorne's Endowed, Abbeystead, Hornby St Margaret's and Thurnham Glasson Christ Church CE
Primary).