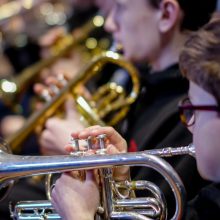 Two of our county ensemble youth bands have been invited to play at the acclaimed National Festival of Music for Youth this July.
Lancashire County Brass Band and HONK! The Lancashire Youth Street Band will be performing at the prestigious Symphony Hall Birmingham on 6 July 2018.
The funky and fun street band HONK! Have been asked to perform outdoors at the high-profile festival in true street band style as well as take part in an improvisation workshop with the famous National Youth Jazz Orchestra, a fantastic experience for all the players.
Lancashire Youth Brass Band will be performing in Hall itself during the five-day festival of live music. The festival is open to the general public and bands play alongside over 8,000 peers in music. The festival brings together the very best brass, classical, folk, choral and contemporary renditions from the UK's leading young musicians.
Helen Minshall, Music Director for the two bands commented:
"Its fantastic news for the players. This was just a dream three years ago, but thanks to the hard work and dedication of the players and tutors, it's really happening!! Thank you to parents and colleagues for the tremendous support which has made this possible. We're all obsolutly over the moon and cannot wait to play in this wonderful festival".
Pictured: Both bands performing at the Music for Youth Regional Festival.