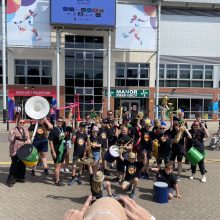 On a scorching hot Sunday in July our Youth Street Band HONK played their (hot) socks off at pre-match parade and Fan Zone stage for the UEFA Women's EURO 2022 Sweden v Portugal match on 17th July!
The football match took place at Leigh Sports Village and HONK entertained the fans with plenty of their street band beats. The day started with performance on the big stage in the Fan Zone, situated outside the Town Hall in Leigh. The band then took part in a pre-match parade where they entertained and played for the fans throughout the journey to the stadium, Leigh Sports Village.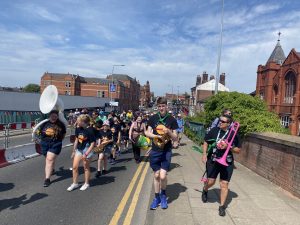 Once at the stadium the young players and music leaders had the chance to enjoy the match and see the Women's football teams play.
Helen Minshall, Music Director of HONK commented on the days events:
"Well what a brilliant day we had and the young players soaked up the atmosphere and created a buzz with their  upbeat playing. Both the parade and the stage were packed with fans and its sucha great experience for the band members to perform like this and gain more confidence for street band performances."
HONK Street Band welcomes new players and with rehearsals starting again in September 2022 its an ideal time to try it out! Find out more HERE