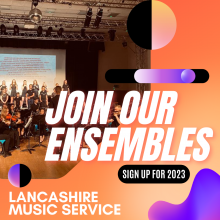 Join our County Ensembles for fantastic opportunities and to be a part of a recognised community of young people spanning Lancashire!
You'll get the opportunity to work with a talented team of tutors and other like-minded young musicians from all over the county, to develop your skills, play together and represent Lancashire in various opportunities and concerts!
See: Lancashire Youth Brass Band win Gold!
There are various ensembles to get involved with:
Lancashire Schools Jazz Orchestra
Lancashire Schools Symphony Orchestra
Lancashire Youth Symphony Orchestra
HONK – Lancashire Youth Street Band
All our ensembles welcome new members – if you are around grade 2 (or equivalent – you don't need to have done exams) or above.
Please get in touch to arrange to join a rehearsal – email lancs.music@lancashire.gov.uk for more information.
follow #wherewillmusictakeyou? – for more updates and news from Lancashire Music Service!
Follow us on X – Formally Twitter



Photo by Beanphoto

Photography by Beanphoto


Photography by Beanphoto