Parents:
Find lessons
Lancashire Music Service (LMS) is the largest provider of instrumental and vocal tuition, taking place in schools, Music Centres and online
Instrumental and Vocal Tuition in school
Many schools offer instrumental and vocal lessons for individuals and groups.
Lancashire Music Service offers tuition in woodwind, brass, strings, guitar, ukulele, singing, percussion, drums, keyboard and piano* with experienced and inspiring teachers. Instrumental and vocal lessons integrate with and support the National Curriculum and contribute to the wider cultural life of the school. (*piano individual lesson only)
We recommend you contact your child's school directly to find out what they can offer. Alternatively, you can contact us for more information.
Find out more about instrumental and vocal tuition in schools.
Whole Class Instrumental Tuition (WCIT) enables children to learn instruments in large groups with their classmates. It's a fun and effective way for children to gain basic skills and experience what playing a musical instrument is all about.
Find out more about Whole Class Instrumental Tuition
More Music provides tutors for lessons in ukulele, percussion and drumming – particularly in schools in the Morecambe area.
Learning Out of School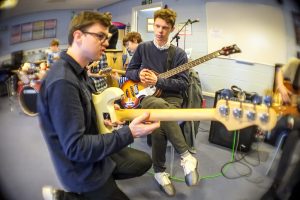 Lancashire Music Service offers instrumental and vocal tuition in Music Centres. Find out more about Music Centres here. Music Centres/groups
There is also a wide range of private out-of-school providers of instrumental and vocal teaching. (Lancashire Music Hub takes no responsibility for private providers).
 Tuition Costs
While learning an instrument or singing often has a cost involved, Lancashire Music Hub aims to keep musical opportunities as accessible as possible and be clear about what cost is involved. There are also many free opportunities available.
Costs vary depending on the provider but the following information aims to give an example of costs based on Lancashire Music Service.
Whole Class Ensemble Tuition and many school projects and workshops are free of charge to parents.
Nearly all schools pass some or all of the cost of small group or one to one instrumental and vocal tuition to parents. An example rate for this is £8.20 per pupil for a group lesson (based on Lancashire Music Service).
Help with Costs link
For help with costs please use the link here.
Our newsletter is the best way to keep up to date with musical opportunities and events.
Quick links:
Parent Direct Payment Scheme (PDP)
The Parental Direct Payment scheme allows parents to pay the Music Service directly for instrumental and vocal tuition. The lessons are delivered in school.
• Lessons are usually delivered in small groups and are a minimum of 20 minutes.
• Individual lessons are also available.
• Regular communication and updates on progress.
• Students will need to provide their own instrument (hire available).
• Students have access to online resources to support their learning through Charanga Music World.
• New students able to start lessons throughout the year subject to teacher availability.
• Lessons can only be cancelled at the end of a full term providing 6 weeks' notice has been received.
• Online lessons are available to students outside of school hours
Enrol online
FAQs
How do I apply for lessons?
Apply online at: www.lancashiremusichub.co.uk/enrol. An automated email will be issued to confirm your application has been received and your child is now on the waiting list. Please allow a few weeks for lessons to be organised and we will do our best to fulfil your request. (Lessons are subject to teacher availability).
What instruments are most suitable for my child's age group?
To start lessons on brass and most woodwind instruments, your child will need to have their adult top front teeth. For other instruments children can start younger and smaller sized instruments are available.
Some types of instruments are available to loan free of charge. Please contact us for further information about instrument choice at play.music@lancashire.gov.uk
How long will my child's group lesson be?
With groups of 2 the lesson will be 20 minutes.
With groups of 3 or 4, lessons will be 30 minutes.
When a group lesson is not possible (as there is only one pupil) then we'll contact you to discuss alternatives.
How can I find out about what music is going on in my child's school?
Many schools are proud of their musical opportunities for pupils and often have details on their school website. You can also contact your child's school directly and arrange to speak to the Headteacher or Music Coordinator.
Where can I find out more about Music Centres?
Please visit www.lancashiremusichub.co.uk/parents. You can arrange to visit a Music Centre by contacting the Head of Centre.
Is there any help available with tuition fees?
If your child is eligible for Pupil Premium, you may be able to access this funding for music tuition. Please discuss this directly with your school. If the school has agreed to support the lesson, they will register your child's application. More advanced students can also apply for help with tuition fees to organisations such as Awards for Young Musicians or Future Talent
Can my child hire an instrument?
Instruments can be hired each year (subject to availability). Instruments are collected (and returned) from our warehouse in Chorley and are your responsibility for the duration of the hire.
Contact Instrument and Warehouse Distribution Team on
Tel. 01257 517127 or email:
lmsinstruments@lancashire.gov.uk
What if my child can't come to a lesson?
Please let us know if your child is going to be absent in advance if you can.
Please email:
play.music@lancashire.gov.uk
Lessons missed due to short term illness or cancellation
by the pupil including forgotten instruments cannot be
refunded. If the teacher or school has to cancel a lesson, the lesson will
either be rescheduled within the same term or credited
from your next invoice.
How do I know how my child is getting on?
Teachers will keep in touch through online channels regarding progress.
Exams?
If your child would like to take an examination, please contact the teacher, there are many options available.
How do I find out about other musical opportunities
for my child?
We have a parents/carers email newsletter to keep you up to date with musical opportunities, advice and recommendations to support your child's musical development.
Sign up here.
What if we want to stop lessons?
Lessons can stop at the end of a full term, (December,
March or July) providing you give us 6 weeks' notice and
email your cancellation request to: play.music@lancashire.gov.uk
Our newsletter is the best way to keep up to date with musical opportunities and events.
Quick links: