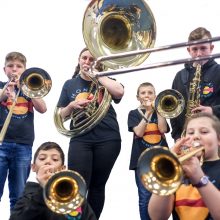 We can't wait until we can get back to live rehearsals with our fantastic County Ensembles, but now's the ideal time to join as a new member as each of the ensembles are meeting via Zoom for the first half of the Autumn term.
You'll get the opportunity to work with a talented team of tutors and other like-minded young musicians from all over Lancashire to develop your skills, work on an online project and get ready for when we can get back together for face to face rehearsals.
There are various ensembles:
Lancashire Schools Jazz Orchestra
Lancashire Youth Jazz Orchestra
Lancashire Schools Symphony Orchestra
Lancashire Youth Symphony Orchestra
HONK – Lancashire Youth Street Band
Lancashire Jazz Youth Vocal Ensemble (JYVE)
All our ensembles welcome new members – if you are around grade 2 (or equivalent – you don't need to have done exams) or above.
Please get in touch to arrange to join a rehearsal – email lmsce@lancashire.gov.uk for more information or to arrange to attend an online rehearsal.