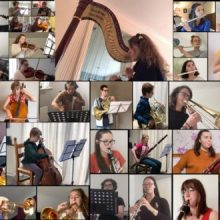 Since September, our Music Centre and County Ensembles have moved online and, while we can't wait for the day when we can play live together again, we are keeping things going with regular Zoom rehearsals.
With the latest lockdown it's an ideal time to join. It's more challenging than ever to keep connected and our groups can support your child to relax and feel less isolated through playing music and meeting with other young musicians.
There are a wide range of opportunities for all levels of experience, including for beginners. We have an extremely talented and friendly team of tutors who lead activities, offer guidance and provide a range of music and resources which you can use at home.
We have put together a comprehensive list below of all the groups.
Music Centres meet weekly and are suitable for all levels of experience. They are a great progression pathway to County Ensembles.
Beginner Brass                     Tuesday               6.00-6.45pm
Improvers Brass                  Thursday              6.00-6.45pm
Woodwind                             Monday               5.00-5.45pm
Strings                                    Wednesday         5.00-5.45pm
Folk Group                          Thursday               5.00 – 5.45pm
Guitar                                    Wednesday          6.00-6.45pm
Percussion                             Tuesday               4.30-5.15pm
Voice (primary)                    Monday               4.00-4.45pm
Voice (secondary)                Thursday            5.00-5.45pm
Watch this short video and see for yourself what the Music Centre online groups can provide:
You can sign up for a free taster session via:
https://www.eventbrite.co.uk/e/lms-music-centre-online-taster-spring-2021-tickets-132426799121 
Please email lmsmc@lancashire.gov.uk if you need any further information.
County Ensembles meet fortnightly and are suitable for players around grade 2 (or equivalent – you don't need to have done exams) or above.
Lancashire Schools Jazz Orchestra
Lancashire Youth Jazz Orchestra
Lancashire Schools Symphony Orchestra
Lancashire Youth Symphony Orchestra
HONK – Lancashire Youth Street Band
Lancashire Jazz Youth Vocal Ensemble (JYVE)
Contact Ann at lmsce@lancashire.gov.uk for more information or to arrange to attend an online rehearsal.