Schools:
Singing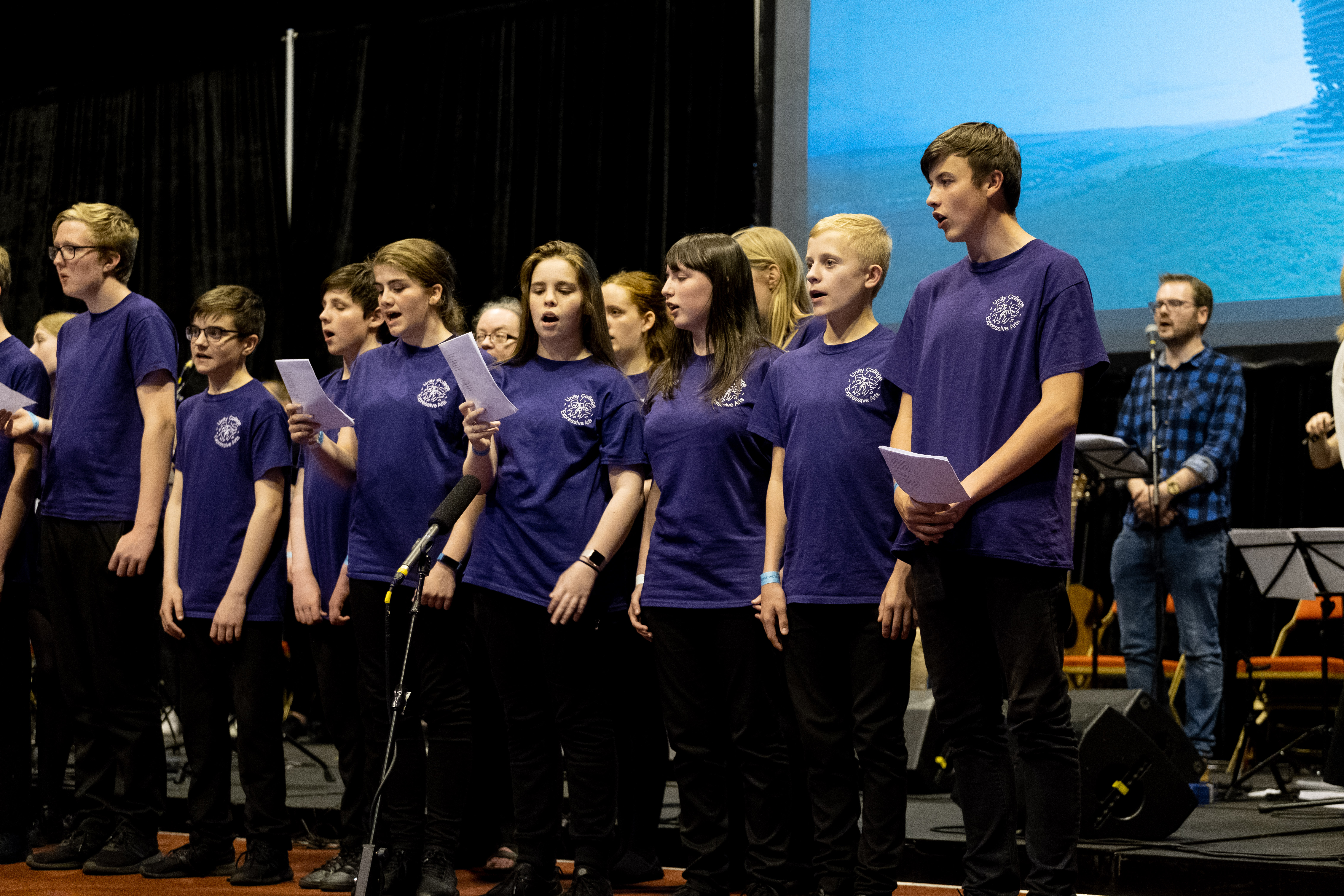 "A County where every voice is heard"
Lancashire Music Hub's key partners have worked together to develop a Singing offer with the core aim of ensuring that quality and diverse singing is accessible to ALL young people in Lancashire.
Through our varied singing work, we aim to give all young people access to singing activities, help teachers and schools to develop their skills, experience and repertoire and offer a range of pathways to varied singing activities. 
Our singing leader for Lancashire, Emma Williams, can offer advice on developing singing in your school, from how to get started to building up choirs, and Emma can signpost pathways and progression routes. Email emma.williams@lancashire.gov.uk.
Virtual Big Sing
Children both in schools and at home are invited to be part of our Lancashire Big Sing!
Thousands of children across our region were due to be part of our 'Big Sings' this year and Lancashire Music Hub are determined to bring together as many voices as possible in these challenging times. Therefore we'll be hosting a 'Virtual' Big Sing on our Lancashire Music Service YouTube channel available to young singers at home or in school.
Subscribe HERE to our YouTube channel where you'll receive everything you need to join in.
Starting on Monday 15th June at 11am we'll release warm up videos and rehearsal tracks for the songs involved with help from our two Big Sing Leaders; Emma Williams and Tim Uffindell. Then on Thursday 25th June join us for a complete performance of the songs.
Videos will be released daily, as follows and will be available until the end of July 2020;
Monday 15th June – Warm Up 1 and Song 1
Tuesday 16th June  – Warm Up 2 and Song 2
Wednesday 17th June – Song 3
Thursday 18th June – Song 4
Friday 19th June  – Song 5
Monday 22nd June  – Get Your Voice Going 1
Tuesday 23rd June  – Get Your Voice Going 2
Wednesday 24th June  – Get Your Voice Going 3
Thursday 25th June – COMPLETE Virtual Big Sing!
We would love to hear if you are joining in with us and you can do this by sharing your participation on the Lancashire Music Hub Twitter and Facebook pages using #lancsbigsing @LancMusicHub
In addition Lancashire Music Hub will be compiling a County-wide video performance of 'Heads Shoulders Knees and Toes' and if you would like to be part of this contact emma.williams@lancashire.gov.uk for further details.
Lancashire Big Sing is a collaboration between Lancashire Music Service, More Music in Morecambe, Chorley Schools Sports Partnership and the Lancaster and District Schools' Singing Festival.
Vocal Tuition
From whole class to group lessons to individual one to one tuition, schools can access specialist vocal teaching which best meets the needs of their pupils.
Lancashire Music Service is the main provider of instrumental and vocal tuition in schools across the county and they also offer schools buying in teaching free access to award-winning Charanga Musical School.
Big Sings
Would your school like to be involved in singing alongside other young voices in your area? Then have a look at the current LMH Big Sings. 
A Big Sing brings several schools together to perform in large local venues under the guidance of experienced Hub Vocal Leaders. 
We currently run 2 large scale Big Sings in the Lancaster and Morecambe and Chorley districts. However, we are looking to expand into other areas of the County so please get in touch if this is something that interests you.
Contact Hub Singing Leader Emma Williams emma.williams@lancashire.gov.uk or call Emma on 07825431450.
We have a number of flexible options to inspire your pupils (all ages) and support your staff and LMS will work with your school to best fit your bespoke needs. 
The benefits of regular singing in schools, both academic and social, are widely recognised and, while there are many great resources available, sometimes you may need a little extra support.
A weekly, 1-hour visit from a specialist for 6 weeks to kick-start singing in your school, perhaps in the lead-up to a festival or school production. A fantastic experience for pupils but also a great way to give staff more confidence to lead singing. We can work with groups of any size and can either provide appropriate repertoire or work on material provided by your school.
Our specialist singing teachers can work with whole classes or year groups and run a variety of sessions such as Beatbox, songwriting or run your school choir. 
Our singing leader for Lancashire, Emma Williams, can offer advice on developing singing in your school, from how to get started to building up choirs, and we can signpost pathways and progression routes. Email emma.williams@lancashire.gov.uk
Choirs and Groups
Choirs are a fantastic way of bringing young singers together and creating a real sense of community. The emotional, behavioural, social and psychological benefits of singing as a group are widely known and the Hub have a number of Group Singing Opportunities across the County for Lancashire's Young Singers. Find your nearest opportunity on our Make Music page.
Many teachers lack confidence when approaching leading vocal work in school – with leading the singing assembly very often feeling like drawing the short straw! 
We can work with non-music specialist staff, building their confidence and skills through practical, engaging and non- threatening training sessions with lots of ideas to take back to the classroom.
Cost: £100 p/h + £50 prep charge
Our newsletter is the best way to keep up to date with musical opportunities and events.
Quick links: